Yorkshire wedding photographer who travels abroad
Where Art and Emotions fuse... so for the personal touch - invite us to join you. xx Elaine and Jorge Borges-Ibanez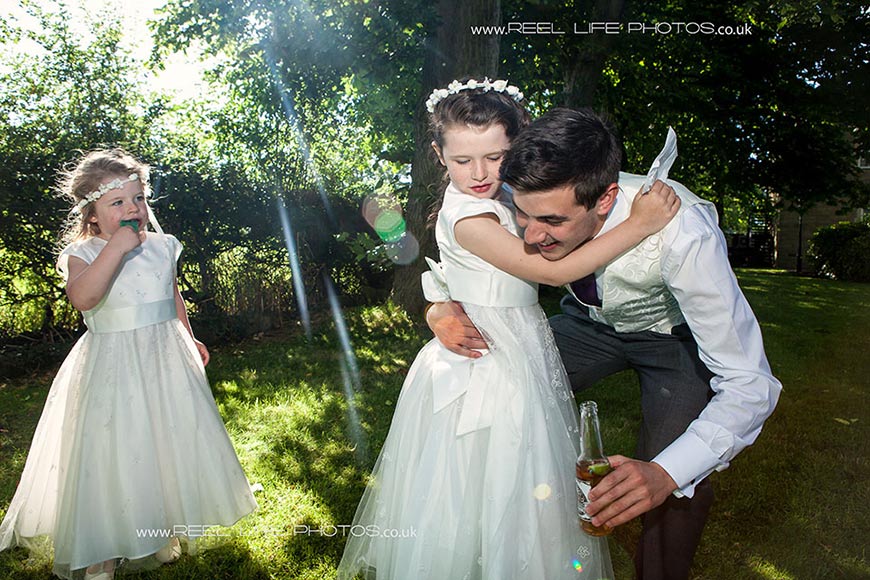 Natural Asian - Pakistani, Indian, Hindu, Sikh, Chinese  - unusual/romantic British weddings and multicultural wedding photography, reportage documentary style.
 
This picture is from a recent Eritrean bride and Jamaican groom's wedding photoshoot all round London. You can see more on our Facebook page. We had a lovely Iraqi couple's wedding straight after in Manchester, so only a few pictures on so far...
Natural wedding pictures are usually the most expressive, but most couples also need a few posed photos to get the best out of them on their wedding day. Out of respect to my Asian wedding clients I can usually only show details online, rather than faces, but on this occasion my Eritrean bride and Jamaican groom had their photoshoot in front of a crowd in London! Whatever your culture or background, and sure you can appreciate the beauty of these wedding images, and hopefully imagine yourself here too, assuming you are a bride or groom to be!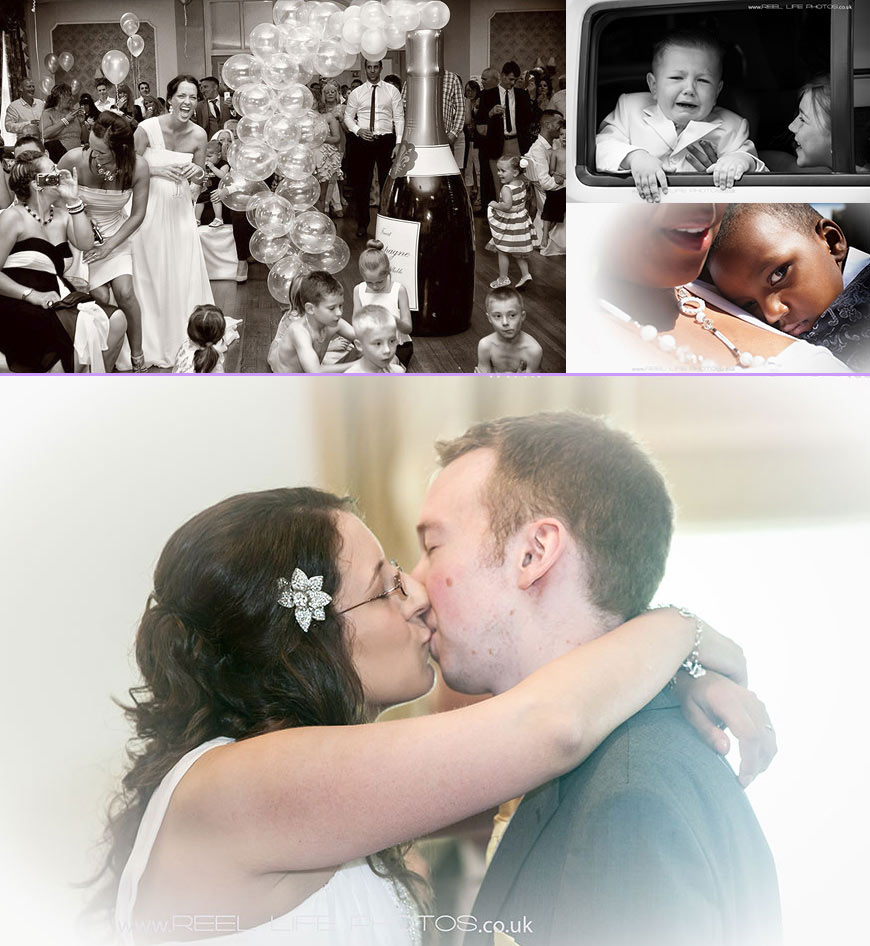 These wedding pictures show how much fun unposed, natural, wedding photography can be.  This style is also known as documentary or reportage wedding photography.  Most people though as soon as they spot my lens pointing at them, immediately start putting on a smile and posing for the camera, so I have to use a long lens and be very quick to get the shots before they notice me!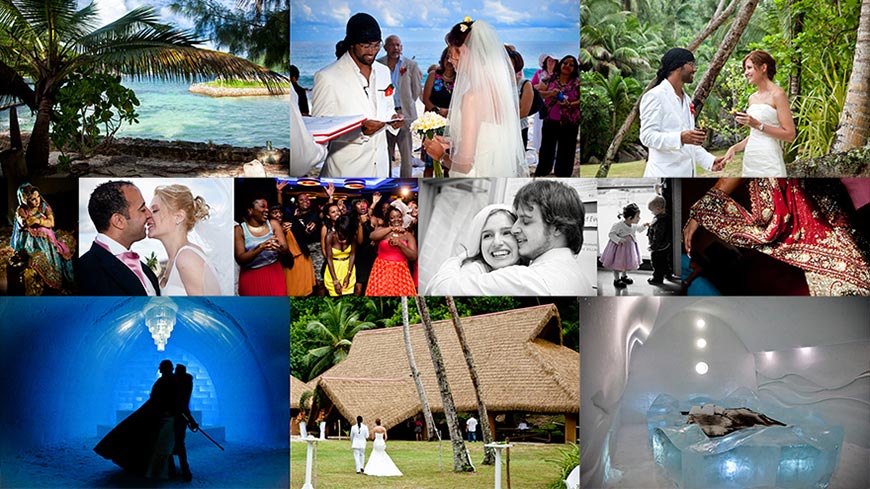 International wedding photography. The first row in the wedding pics above is of a beach wedding in the Seychelles. The second row shows a bride sitting on her bed in Pakistan, then a romantic kiss between the Egyptian groom and Ukrainian bride, then an Ethiopain and Ghanaian wedding in London of the throwing of the bouquet, then the black and white photo I call my Romeo and Juliet picture as they are so sweet,  then two cute kids at a wedding in Scotland, and a natural light picture of an Asian bride's Dupatta - or jewelled veil. The final row shows an unusual wedding in the Ice Hotel in Sweden, an exotic wedding at Cap Lazare in The Seychelles, and an Art Bedroom in The Ice Hotel. We just love taking photos or video at weddings abroad!


****  We have a lovely app now for you to download for free, so you can find out all about Reel Life Photos straight from your ANDROID phone/device (click on bold links),  or from your APPLE iPhone/iPad. Hope you find it useful!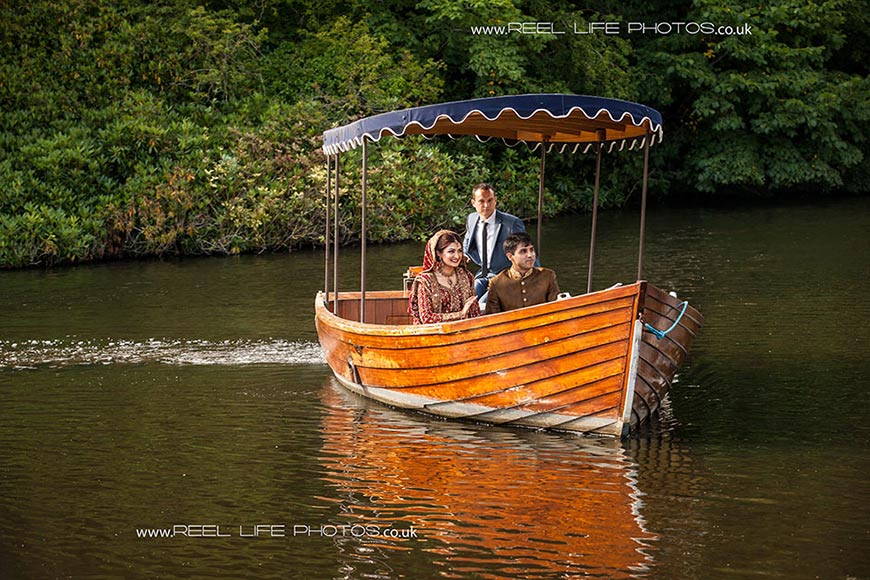 This romantic Asian bride arrives by boat to be greeted by all her family before walking into her marquee wedding reception at Thornton Manor Lakeside.
Dream weddings: the perfect partner, a wonderful wedding venue, delicious food, an amazing dress, all your special people, so now its time to book your wedding photographer, and videographer, so you don't miss a thing! Before you choose who is going your share your day to capture the magic, please spend some time looking at wedding pictures, and all the other info on our site, then say hello to me - Elaine - on our Facebook page, as wherever your wedding is, I know you will be very happy! We are based in Dewsbury, West Yorkshire, so very close to Leeds, Huddersfield, Bradford and Batley, but we also travel abroad for lovely people's international weddings for natural and multi-cultural wedding pictures. Have fun!
xx Elaine and Jorge
 ****Latest news! We'll be at The Orchid in Dewsbury (next to Dewsbury Train station)  for a wedding fair 11-6pm  today - 1 November 2014 - if any bride or grooms to be want to pop in and see our wedding albums, photos and films, as well as all the other lovely exhibitors.  Asian, African, English, national and international weddings to look at!

* See Janey and Mark's Dimple Well Lodge in Ossett wedding photos and more below these... 
* Latest weddings: Hindu wedding in Sheffield,  * Asian Pakistani wedding,
* Unusual wedding picnic in West Yorkshire
 *Our latest Italian storybooks are on our blog here and here.

Other recent weddings - see Reel Life Photos Facebook photo albums, as too many to list here.

* been awarded  FIRST prize in the  INTERNATIONAL WEDDING PHOTOGRAPHERS EXCELLENCE AWARDS! The brief was to submit 5 images from the same wedding that showed the excitement and emotions of a wedding day. Am totally bowled over that I actually won it! The $1,000 prize that came with it was wonderful too!

* Another bit of good news too, as one of my travel pictures is also to be included in a book of award winners from this street photography contest!
We know the first question that all couples want to ask their ideal wedding photographers is "How Much?" and that its a huge task paying for all the various must haves for your wedding, so give me a call on 07990 867058 or message me through Facebook for wedding photography or video prices.       Click here to see a few favourite pics on Facebook.  *links are in bold black.

 Video and Photography from  Reel Life Photos international wedding photographers.
Time & travel is no object on & around your wedding day.  We just want to make you happy, so let us know what 

YOU want

  xx Elaine & Jorge