Natural wedding photographer in Dewsbury, West Yorkshire who travels to your UK wedding or abroad
Where Art and Emotions fuse... so for the personal touch - invite us to join you.
xx Elaine and Jorge Borges-Ibanez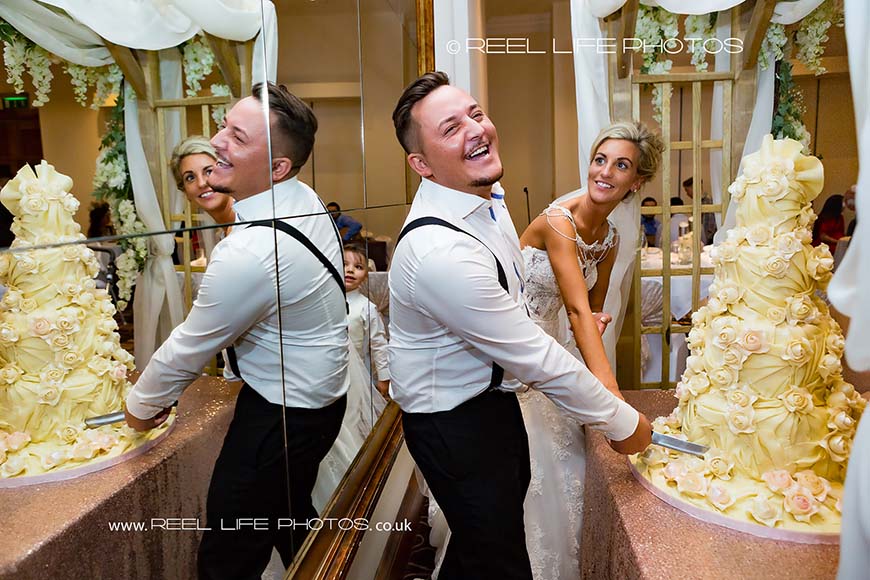 Above is a really fun, natural wedding picture, showing the cutting of the cake and the reflections in the mirror behind them at a gypsy wedding in Blackpool in winter.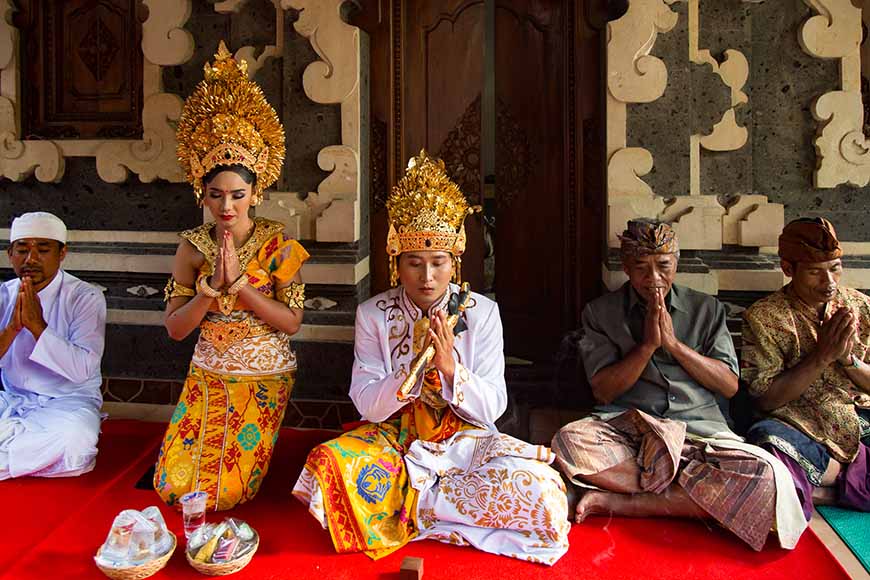 Traditional Balinese wedding in Bali - from our latest wedding abroad!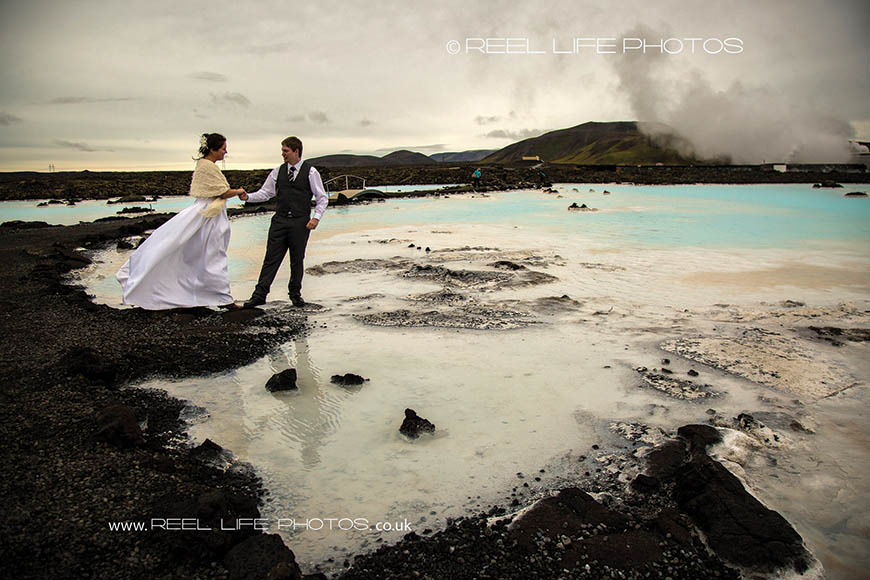 Just one pic from one of our unusual weddings abroad - in Iceland!  This picture was taken towards the end of the Canadian couple's wedding day, by the Blue Lagoon: bitterly cold though! They were almost as blue as the lagoon but determined to get the photos they wanted!
The above video slideshow shows a fun wedding in York,  with the wedding reception at The Sidings - a unique wedding venue for smaller wedings and with outside space too: great fun! 
The above video is a whole slideshow of photos from a Nigerian English couple's wedding inside Dewsbury Town Hall.  You get to see how much fun natural wedding pictures can be for the guests, as they don't have to stop what they are doing!  It was a winter wedding so the couple chose to stay inside in the warm.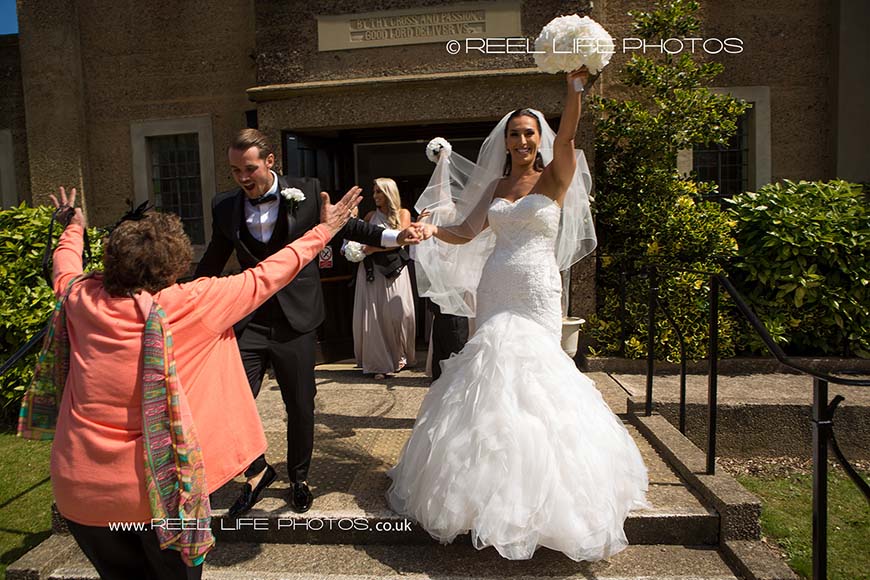 We love fun weddings - wherever they are!  This was a church wedding in South Yorkshire, but we have been covered weddings in all 5 continents of the world over the years. This photo slideshow is from an Eritrean wedding shot in London - well the bride was from Eritrea and the groom was from Ghana.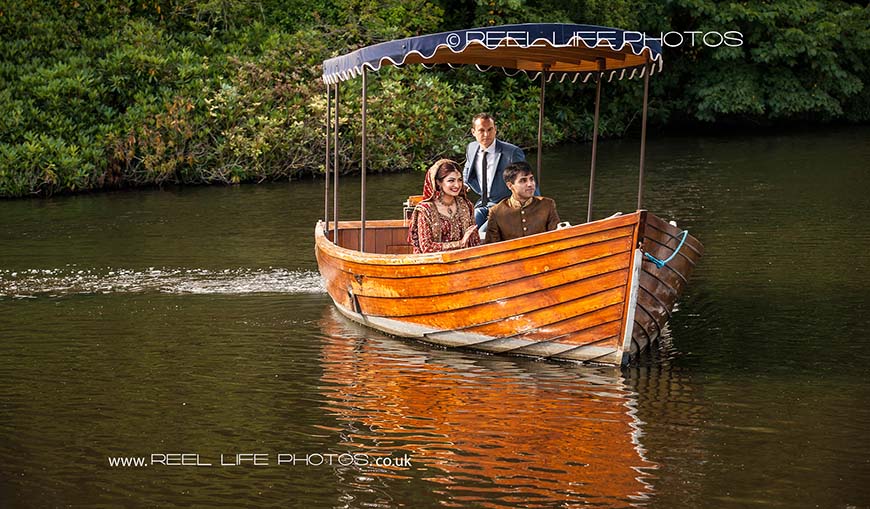 This romantic Asian bride arrives by boat to be greeted by all her family before walking into her marquee wedding reception at Thornton Manor Lakeside.
Natural wedding pictures are usually the most expressive, but most couples also need a few posed photos to get the best out of them on their wedding day. We photograph and video all kinds of weddings, unusual and traditional.  Whatever your culture or background or religion, am sure you can appreciate the beauty and diversity of the wedding images on our site - spread over several pages - and hopefully imagine yourself here too, assuming you are a bride or groom to be!
****  We have a lovely app now for you to download for free, so you can find out all about Reel Life Photos straight from your ANDROID phone/device (click on bold links),  or from your APPLE iPhone/iPad. Hope you find it useful! 
 Video and Photography from  Reel Life Photos international wedding photographers.
Time & travel is no object on & around your wedding day.  We just want to make you happy, so let us know what 

YOU want

  xx Elaine & Jorge