Natural wedding photographer in Dewsbury, West Yorkshire who travels to your UK wedding or abroad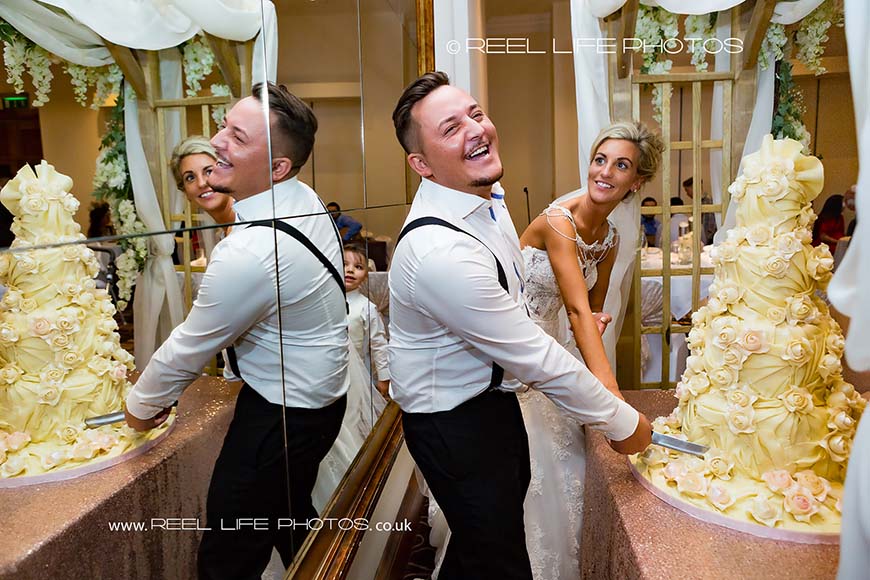 Above is a really fun, natural wedding picture, showing the cutting of the cake and the reflections in the mirror behind them, at a traveller wedding in Blackpool in winter.
Fun wedding photography at Heath Cottage in Dewsbury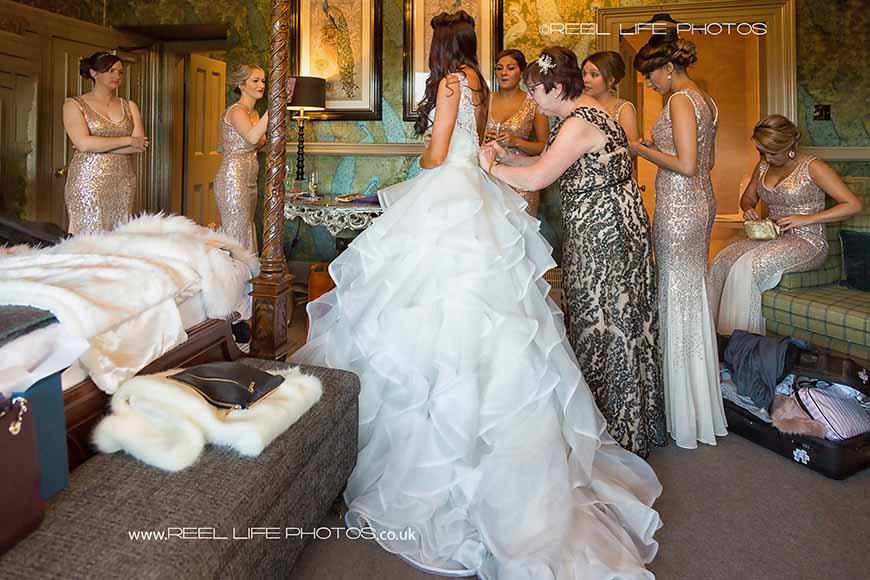 I prefer to capture things as they happen, as love natural wedding photography, without any posing or fake smiles. This one was at a winter wedding, in a very glamorous country mansion.  Even if you are having a more laidpback, simple affair, its you and your important people who make the day special, just being together after all the lonely times we've all had during lockdown! 
 http://weddingphotos-video.co.uk/blog/real-wedding-in-the-lake-district/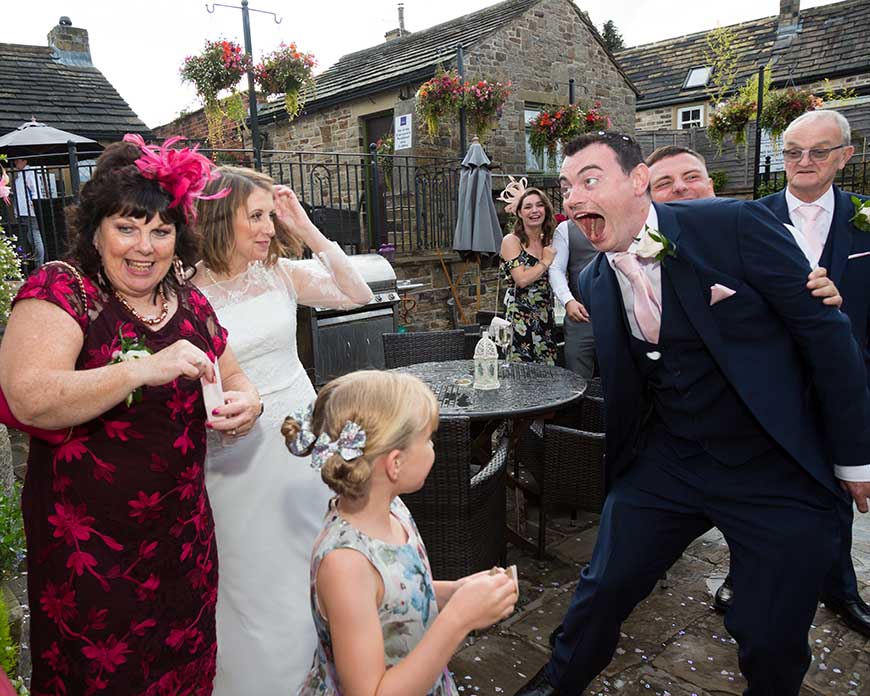 I love fun weddings, and this wedding at the Black Horse Inn in Clifton, was no exception!  
The wedding photography slideshow above is from a sweet little summer wedding in the Peak District, (Derbyshire) around Glossop and New Mills. It has both family pictures and natural wedding photos that show the story of their day, starting at their home as they are getting ready, then going to the wedding ceremony, and a small family meal in the Packhorse Inn in New Mills, followed by their evening wedding reception at Glossop Cricket Club.  The children all had a brilliant time too! 
The above video slideshow shows a fun wedding in York,  with the wedding reception at The Sidings - a unique wedding venue for smaller weddings and with outside space too: great fun! 
The above video is a whole slideshow of photos from a Nigerian English couple's wedding inside Dewsbury Town Hall.  You get to see how much fun natural wedding pictures can be for the guests, as they don't have to stop what they are doing!  It was a winter wedding so the couple chose to stay inside in the warm.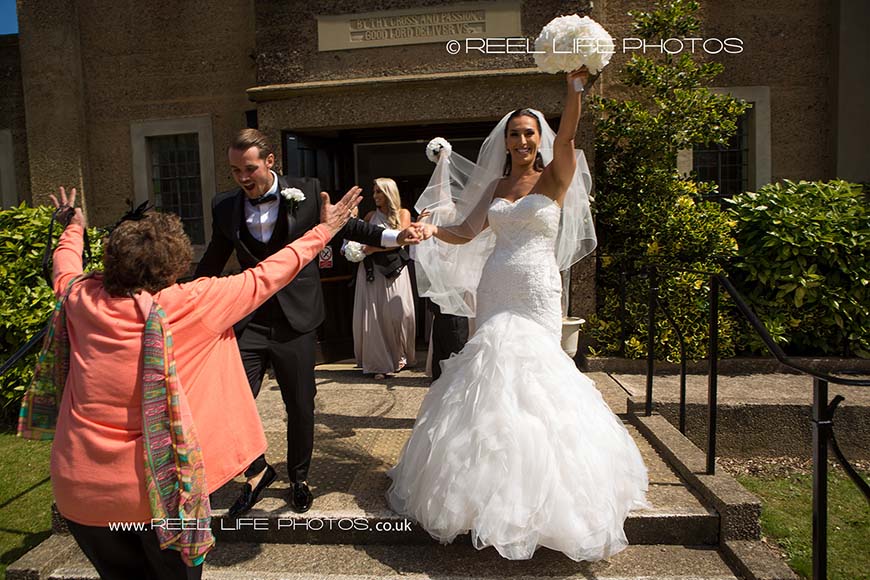 We love fun weddings - wherever they are!  This was a church wedding in South Yorkshire, but we have been covered weddings in all 5 continents of the world over the years.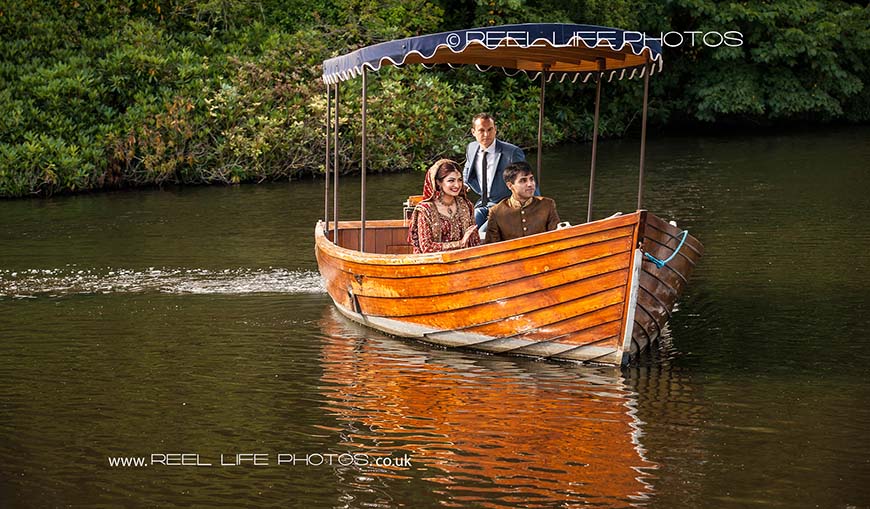 This romantic Asian bride arrives by boat to be greeted by all her family before walking into her marquee wedding reception at Thornton Manor Lakeside on the Wirral.
Natural wedding pictures are usually the most expressive, but most couples also need a few posed photos to get the best out of them on their wedding day. We photograph and video all kinds of weddings, unusual and traditional.  Whatever your culture or background or religion, am sure you can appreciate the beauty and diversity of the wedding images on our site - spread over several pages - and hopefully imagine yourself here too, assuming you are a bride or groom to be! Don't forget to also check our Facebook Page for the latest weddings as there are over 50,000 pics! (no you don't have to look at them all!) 
We are are available for small weddings  and have experience of weddings where there was just a bride and a groom (and me) so you can't get much smaller than that!
See here: http://weddingphotos-video.co.uk/blog/wedding-on-a-mountain-in-iceland/
and http://weddingphotos-video.co.uk/blog/winter-wedding-in-snow-at-augill-castle-in-cumbria/
Where Art and Emotions fuse... so for the personal touch - invite us to join you.
 Video and Photography from  Reel Life Photos international wedding photographers.
Time & travel is no object on & around your wedding day.  We just want to make you happy,
xx  Elaine and Jorge Borges-Ibanez