About Reel Life Photos
We love people and are passionate about wedding pictures!  My  background is in fine art having worked for 20 years as an  artist, exhibiting and painting in oils and graphic media.  My granddad was a wedding photographer too, and my great granddad also a photographer, printing his pictures on glass.  My sister is a landscape photographer and my son an acclaimed music, travel, and magazine photographer, so it must be in our blood!
Jorge is a talented videographer and editor, whose background is in Cuban national TV working on dramas and films, doing sound design for large stage productions, concerts, news, and conferences. He is also our IT techie and is brilliant with electronics too!  He is also a passionate Salsa dancer!
Jorge speaks fluent English, Spanish and Italian.  I speak fluent Greek, and reasonable Spanish, German & French, and understand a bit of Italian.
We started covering weddings in 2000 and set up our original website around that time, rebuilding it in 2004.  We decided to add this one late 2009 as I don't have time to learn how to do complex web-design and this one by websites for photographers is so easy to build and update!  
*At the end of 2012 I received FIRST prize in the  INTERNATIONAL WEDDING PHOTOGRAPHERS EXCELLENCE AWARDS! The brief was to submit 5 images from the same wedding that showed the excitement and emotions of a wedding day. Am totally bowled over that I actually won it! The $1,000 prize that came with it was wonderful too!
*Earlier the same year I won Press and PR photographer of the year with the Society of Professsional  Photographers International.

* Another bit of good news too, as am also to be included in a book of  award winners from this

wedding photographer Elaine in Leeds with storybook wedding albums in The Light
We recently were awarded SILVER with a black and white photo of Jon and Sally kissing under their veil in front of their wedding marquee
 and won a GOLD award for Travel Photography too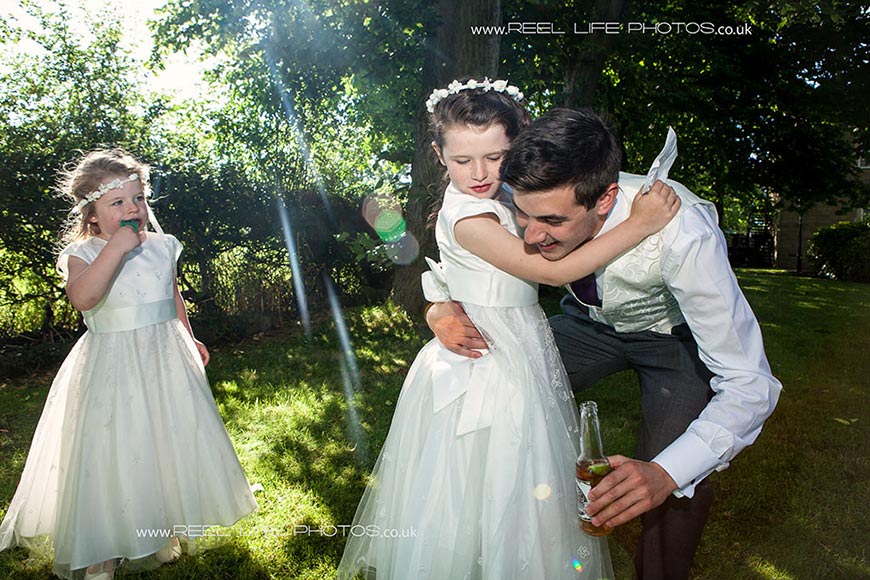 So on your wedding day, it's truly your emotions we most strive to catch  - your off-guard expressions rather than in-the-mirror-smiles. Savour the visual feast online of  selected picture sections and then get in touch. No charge for travel anywhere in UK or world wide wedding destinations overseas. We've done weddings in the Ice hotel in Sweden, a quaint church in Tenerife, Kilkea Castle Southern Ireland, Jacob's Creek in Australia, a chateau in France, an Orthodox wedding in Egypt, a Bedouin wedding in Jordan and several African weddings in The Gambia, one in Aghia Napa in Cyprus and one on a Sydney Enterpise - a corporate hospitality boat sailing round the bay in Sydney.  We also are happy to travel  for weddings in India, Italy, Switzerland or Greece - to name a few. We had another one in the Ice Hotel in Sweden for a very lively couple at Christmas, followed by a beach wedding for another lovely couple in the Seychelles, and last year had weddings in Pakistan, France. We also videoed and photographed a Muslim Punjabi wedding in Norway  in August  2013  in The Gambia in 2014 for a Nigerian Gambian couple.Since then we have photographed more international weddings such as ones in The Gambia for a real Gambian couple in April 2015 and a bride from Bermuda whose groom is  from Sierra Leone, and one in Bali in March 2017, but wherever your wedding is, you are the star, and the whole family is part of your day too, so enjoy your wedding video DVD or photography by inviting us to join you!
If in a hurry, our Facebook albums are quick and easy to skim through too.
The main thing about our approach to weddings is to get to know the couple so on the day we are nice and relaxed and can bring out the best in them while also helping them to have a great experience.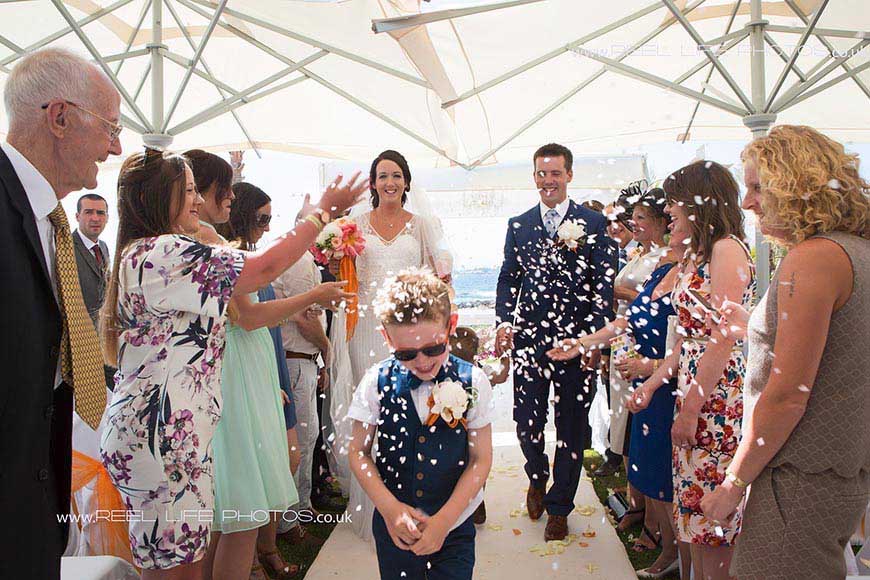 And of course I just love to travel, so when one of the telesales reps was selling me an advert in their online wedding directory, I couldn't resist asking if I could take HER wedding photos too, and guess what - she said yes! This is just one pics I shot at that fantastic wedding in Cyprus, at the The Olympic Lagoon.  I also speak fluent Greek and pay for my own flights so we were both very happy!