International wedding photographer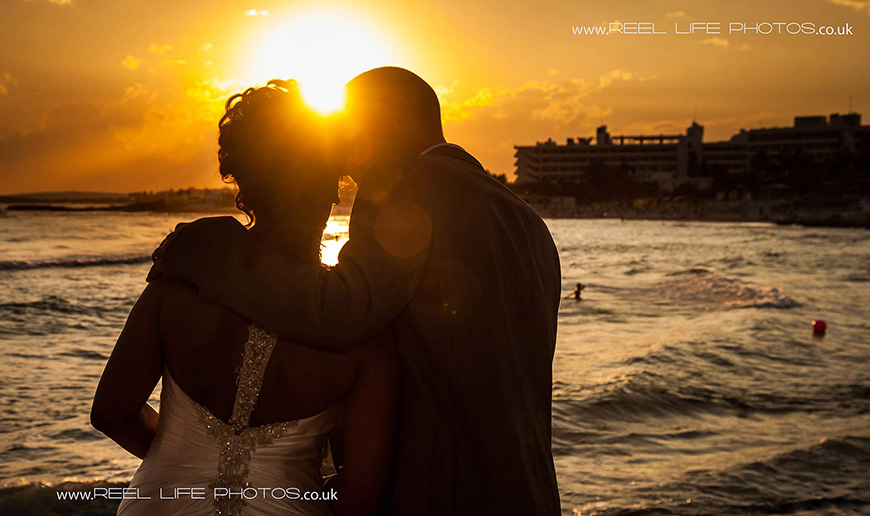 Romantic beach wedding in Cyprus - one of 30 plus weddings I have personally photographed abroad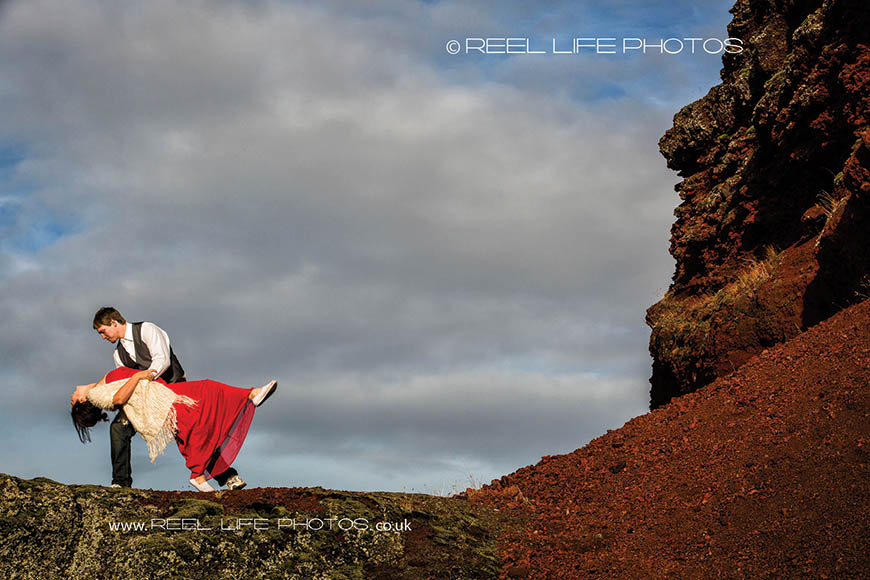 Unusual wedding in Iceland.  The Canadian bride and groom decided to get married on top of a mountain in October 2015, with just the Icelandic Registrar and their wedding photographer - Elaine - to act as their witness.  
 Vintage wedding in France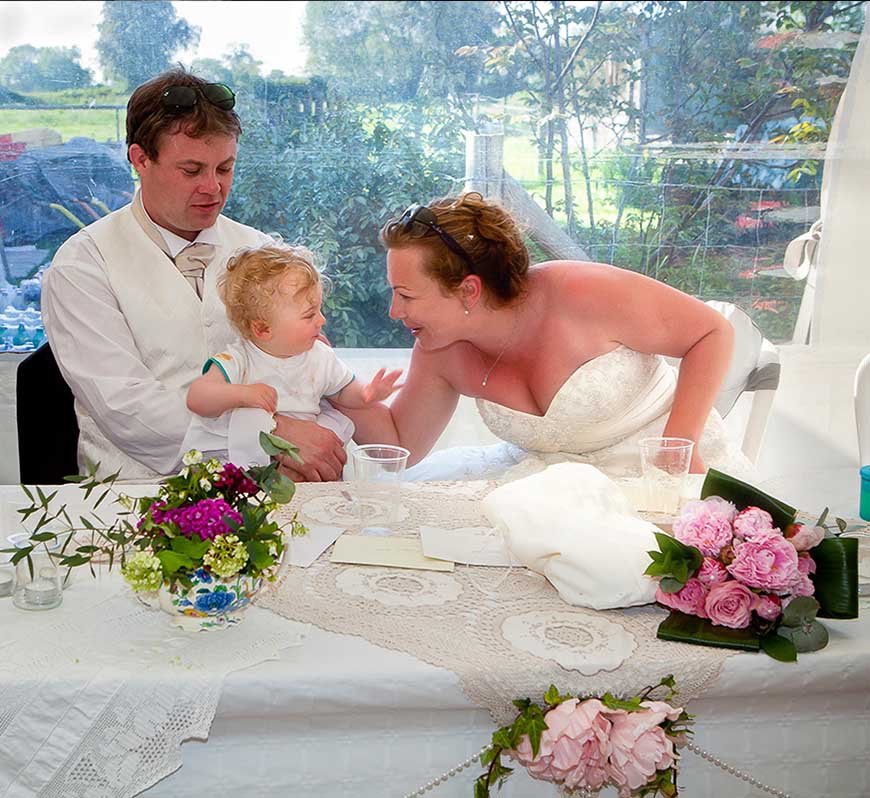 The vintage table decor was a labour of love using the bride's late grandmother's collection of lace and beautiful antique vases. That was one sunny day in France surround by all the bride and groom's special friends and family, many of whom had travelled miles to get there.
This 30 minute Balinese wedding was shot whilst also taking photos of the couple's wedding in Selat Duda region of Bali. The gold crowns and lavish outfits, the priest's jangling bell and all the colourful rituals created a wonderful vista but more than that, I felt part of the family while there, so hope to go back again soon! As things stand at the moment my next weddings abroad will be in Mexico and The Gambia though...
 Just a simple 10 minute video of the bride getting ready inside the Royal Suite at Coco Ocean Hotel in The Gambia, West Africa.  I was also shooting the photos so could have addded on a photos slideshow too.
We love wedding DVD and photography anywhere in the world though.  The first ever wedding abroad that we were the professional photographers for was at the Ice Hotel in Jukkasjarvi Sweden in 2007, followed by a chapel in Tenerife, Jacob's Creek in Australia,  a chateau in Loire Valley France, an Orthodox wedding in Egypt, a Bedouin wedding in Petra, Jordan, Kilkea Castle in Southern Ireland, and 7 Gambian/English/Burmudan/SierraLeonnan weddings in The Gambia.   So we certainly don't mind if your wedding is in wild Dartmoor, urban London, Leeds or Manchester, mountainous Wales, snowy Scotland or rain-drenched Windermere in the Lake District.
I was lucky enough to be awarded  FIRST prize in the  INTERNATIONAL WEDDING PHOTOGRAPHERS EXCELLENCE AWARDS too! The brief was to submit 5 images from the same wedding that showed the excitement and emotions of a wedding day. Am totally bowled over that I actually won it!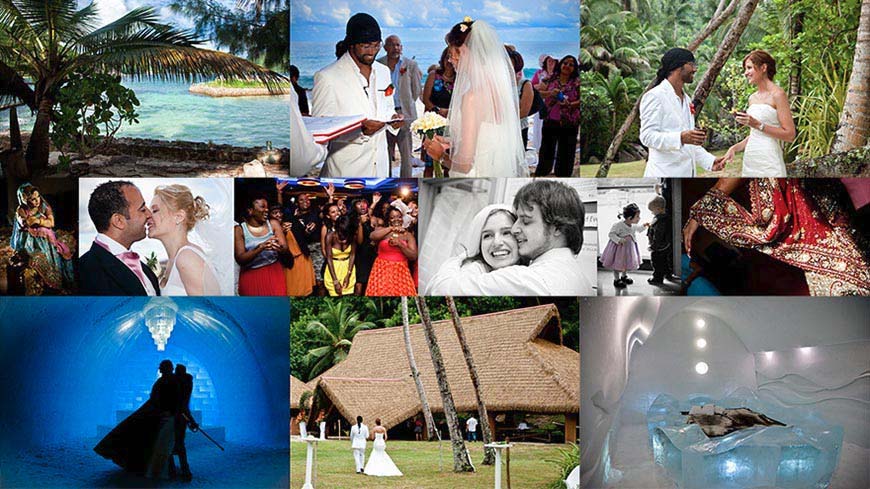 This photo montage of wedding pictures above shows how much fun unposed, natural, wedding photography can be.  This style is also known as documentary or reportage wedding photography.  Most people though as soon as they spot my lens pointing at them, immediately start putting on a smile and posing for the camera, so I have to use a long lens and be very quick to get the shots before they notice me!
International wedding photography. The first row in the wedding pics above is of a beach wedding in the Seychelles. The second row shows a bride sitting on her bed in Pakistan, then a romantic kiss between the Egyptian groom and Ukrainian bride, then an Ethiopian and Ghanaian wedding in London of the throwing of the bouquet, then the black and white photo I call my Romeo and Juliet picture as they are so sweet, then two cute kids at a wedding in Scotland, and a natural light picture of an Asian bride's dupatta - or jewelled veil. The final row shows an unusual wedding in the Ice Hotel in Sweden, an exotic wedding at Cap Lazare in The Seychelles, and an Art Bedroom in The Ice Hotel. We just love taking photos or video at weddings abroad as well as all over the UK. 
Pics from a beach wedding in The Seychelles and The Ice Hotel in Sweden
Wedding advice on getting married in The Seychelles
In April 2010 we had an overseas destination wedding for Denise and Bax in Gambia, then one in beautiful Cyprus - at the Nissi Beach resort for  Sikh/Yorkshire couple who like to do things differently, then one in Australia, with an outdoor wedding ceremony followed by the reception on Starship Sydney which sailed all around the bay, giving views of Sydney Opera House and the harbour bridge.  Had our second wedding at Christmas 2010 in the Ice hotel in Sweden -  the Ice Chapel at this time -  where the temperature inside the hotel is a cool minus 5 degrees.  See pics below from our most recent  wedding there  and an exotic wedding abroad in the Seychelles in April 2011, for Lauren and Trevor (whose family have their roots in the Seychelles).  Their beach wedding album design (ceremony)  is here too (reception). 
Some of our international weddings were in The Gambia March 2014 in Banjul -  church wedding pictures from St Mary's Cathedral. The rest of their Gambian wedding reception was at Kairaba Hotel and the Ashobi is in various albums on our Facebook page. We videoed and photographed another international wedding  - an Asian Muslim wedding in Norway in August last year too. The mehndi party pics are here and the highlights video is here too, as well as one in Pakistan at the end of Feb / beginning of March 2012  - few pics from the background to that wedding on our blog too - followed by one in Nigeria at the end of March 2012,  and we  covered another lovely couple's wedding on 28 April 2012 in The Gambia again, and then one in a little village in Normandy, France, a Pubjabi wedding in Norway in 2013, another one in The Gambia in 2014 and 2015 as well as one in Cuba in December 2014 . Two more took place in The Gambia, one in Cyprus, one in Iceland in 2015 with two more weddings in the Gambia in December 2015, including another at Coco Ocean in The Gambia, and  one Australia in January 2016, so we seem to be travelling all over! Have kitbag - will travel...  We meet loads of lovely people through our work, so if you are attracted to our images, am sure you are warm-hearted and very genuine, and we'll have a great time.
We can come as a husband and wife team - covering both your video and photography - or just photos (in which case you get just me.)  Get in touch if you have any questions at all about how this works. Its just the same price as a UK wedding -  as we feel its fair to pay for our own flights - and you get as much time together as you like as we document your stay abroad, as well as the main wedding day.  The only extra cost is a contribution towards our accommodation whilst abroad, though I love staying with a local family, so don't expect a star-studded hotel!  Great fun!
Have more pics on Facebook too.
How about this for wedding evening reception entertainment!
Unedited clip of a stilt dancer from cultural wedding in The Gambia for a couple from Sierra Leone April 2012
Advice on getting married abroad, and answers to questions about a marriage certificate issued overseas.
 Chapati making in Pakistan, at one of our weddings abroad: February 2012
 * Elaine also photographed other weddings in Indonesia in November and December 2017 -  in Sumatra and in Malaysia - and in the Gambia in January 2018, so if you are getting married anywhere abroad or even having a Gambian wedding please get in touch!  Call +447990867058, or send a message through our Facebook Page.
xx Elaine