wedding video UK and abroad
We would love to film your wedding video if you decide you'd like that!
 We can come as a video-photography husband and wife team or just be your wedding photographer or videographer.
Elaine shot this video during a local wedding in Dewsbury, whilst also shooting all their wedding photos.  The bride had no idea about it , so it was a lovely surprise for her!  
Early on the morning of a traveller wedding - shot and edited by Elaine
Elaine also shot the little church wedding video above, whilst also taking photos, and Jorge added to the magic in the edit.  
We also video special parties, such as this Bar Mitzvah party at The Village in Bury.  This is a full-length video  - over one hour long, shot and edited by Jorge!
A full length church wedding in London for a Gambian - Nigerian couple .  This one is even longer, as the couple wanted wanted everything kept in the video, including the "sermons". 
Just a minute or two's highlights from a Nigerian couple's church wedding at St.Peter's Baptist Church in Worcester.
See also a few pics from that wedding here.
Jorge filmed the above wedding video on a New Year's Eve at a fabulous wedding venue in Cheshire called Thornton Manor in Thornton Hough on the Wirral.  The bride and groom were able to book the whole venue, so it was totally private to them and their wedding guests.  This is just the intro.  The couple received their video a few months after their wedding, but we only uploaded this clip some time after their wedding (with their permision) - so thank you Karen and Paul for letting us show off your wedding! You can see some of their wedding photos in their storybook album here too.
I shot and edited this video myself (Elaine), as a surprise gift for the couple, as they didn't have a budget for a camerman/woman, yet I felt they deserved one.  As I was also shooting their wedding photos, its not a complete wedding video, but at least it captures some of the happiness of their wedding day in a natural realistic way.  It was a church wedding in Liverpool - Kirkby St. Chad's Church, Old Hall Lane, Liverpool L32 5TH followed by a reception at Maghull Town Hall.  They hadn't a clue that I was shooting video too!  My camera is a photo camera so they kept thinking that I was only taking wedding pictures all day - which of course I was too!
 The video above is one I shot while also taking all their wedding photos at Coco Ocean in The Gambia, West Africa: you can see their wedding album here: http://weddingphotos-video.co.uk/blog/coco-ocean-exotic-wedding-storybook-pictures-in-the-gambia/  The video is just from the start of the day where the English bride and her Gambian bridresmaids were all  getting ready in The Royal Suite, as they had a Gambian male videographer videoing the rest of their day.  Again I did it as a little surprise for the couple. 
The video below  (another one of my little wedding videos)  is a 3 minute overview of Bolton Excellency - a very theatrical, large capacity wedding venue in Bolton, easily accessible within an a hour or so from either side of the Pennines in the North of England, ie Leeds, Bradford, Dewsbury, Huddersfield, Wakefield, Manchester, Bury, Liverpool. Its popular for Asian, Tanzanian, Iraqi, Arabic and other Muslim weddings, but that's also why I haven't included any shots of the bride and groom, so as not to offend anyone, as some people naturally prefer not to have their personal wedding day made public online.  Most of the weddings held there choose to also have a performance by the staff, actors who present a spectacular and colourful show, often involving indoor fireworks and a wedding-cake-filled table that is lowered from the ceiling to the sound of dramatic music!  In that respect alone it is unique, as no other wedding venue is so geared up for the grand performance that is Bolton Excellency.  Just look at the spectacular chandeliers!
The video below is one of our international wedding videos, shot in Norway, of a Punjabi Norwegian bride at her Mehndi - henna  - party,  though we have since been the videographers or photographers for other weddings abroad in Cuba (Dec 2015), The Ice Hotel in Sweden (2007 and 2010). The Gambia (6 times to date), Cyprus (twice), The Seychelles, Tenerife, France twice, Australia (three times 2008, 2010 and 2015), Iceland - on top of a mountain (2015) and are still happy to travel anywhere for weddings! Jorge shot their video though so I could focus on taking photos, though I often shoot additional sequences to be added into the main video too.
This is just a very simple Islamic wedding in a Masjid in Sheffield between and Egyptian groom and an English bride. The bride only found out two days before the ceremony that she was getting married, as the groom didn't want a load of fuss.  After the ceremony they had  a few photos in the Botanical gardens, which are also included here as a slide show on the video. They are having their wedding reception party later in the year in Hitchin.
Wedding in Leeds, Uk /Reel Life Photos from Elaine & Jorge Borges-Ibañez on Vimeo.
This HD video sample shows the start of a wedding ceremony, as well as a clip from the evening dancing. It rained on the day so a lot of the footage takes place inside the Queens Hotel in Leeds. We have had to reduce the resolution a little to fit this on your screens but even so it should give you an idea of the High Definition image and sound quality. The video editor and film-maker/ cameraman is the talented Cuban Jorge. He is available for commissions - drama, news gathering, documentaries, corporate video, video editing and of course wedding videos - anywhere in the UK and even worldwide destinations.


This video of a wedding at Hazelwood Castle was taken in pre-HD days so you can see the difference I think - even at this low resolution, as was this collection of video clips from different wedddings a few years back! They are still a lasting memory for the couples though!
Reel Life Photos wedding video flyer from Elaine & Jorge Borges-Ibañez on Vimeo.
snippets from various wedding videos Reel Life Photos has shot, edited together with music by Rod Mason (Sax Player)
Each wedding is unique and template-free, we can never show you your wedding-vision in advance...  We can also perform magic with a single video-photographer...but only for smaller events such as Christenings.  See this Greek Christening on Leeds, where Elaine simultaneously covered both the video and the photography (Jorge is miles better than me of course with his big HD camera, and it is his skilful editing that really makes this work! (part two after this...)
part two, as its full-length!
This one is a colourful Asian wedding video - distilled from  4 day Hindu wedding in South Yorkshire and London. Well-worth watching!
The main cost to us is the editing time so you can have us for unlimited time on the day, (provided you let us sit down with you for a meal, so we can be on hand, to see any action as it happens).  We usually start 2-3 hours before the ceremony anyway and stay as long as you wish and there is something of interest happening on the day.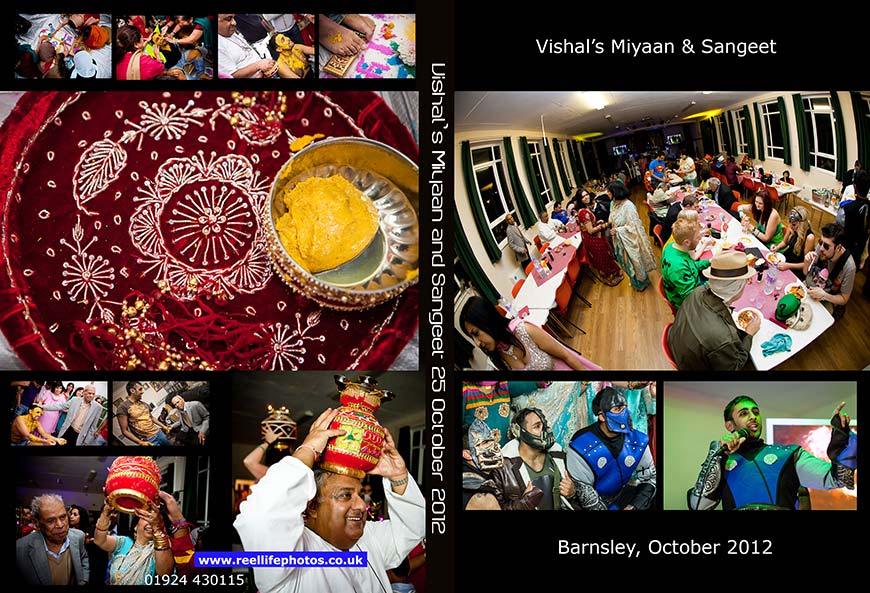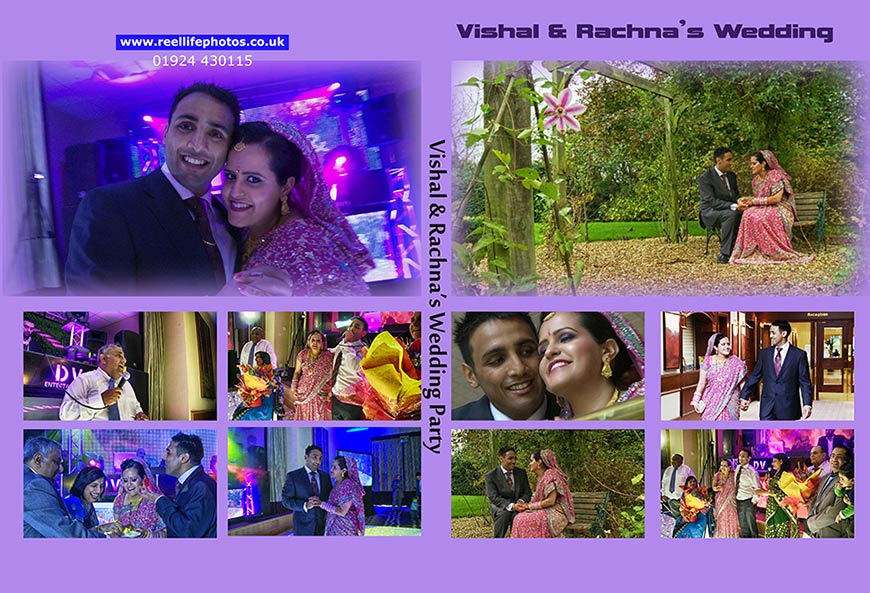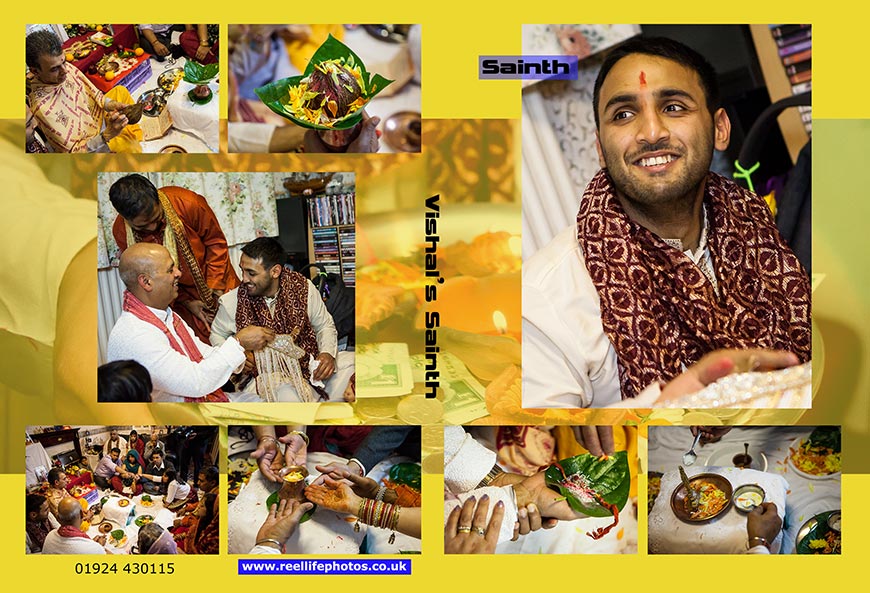 A short video showing the magnificent wedding venue for English or Asian wedding receptions at Crossley House Belle Vue Park in Halifax.  It has plenty of parking sapce and wonderful architecture and gardens for the wedding video and photography.
This last video shows the highlights of an Asian wedding Baraat in Norway,  for a lovely Norwegian Punjabi bride who found our website all the way in Norway, so it seems we are even more international than we thought! Wherever your wedding is, we will be there for you, so long as we are not already booked....