Wedding Photographers In Huddersfield
A wedding video in Huddersfield was shot whilst also hired as the couple's official wedding photographer.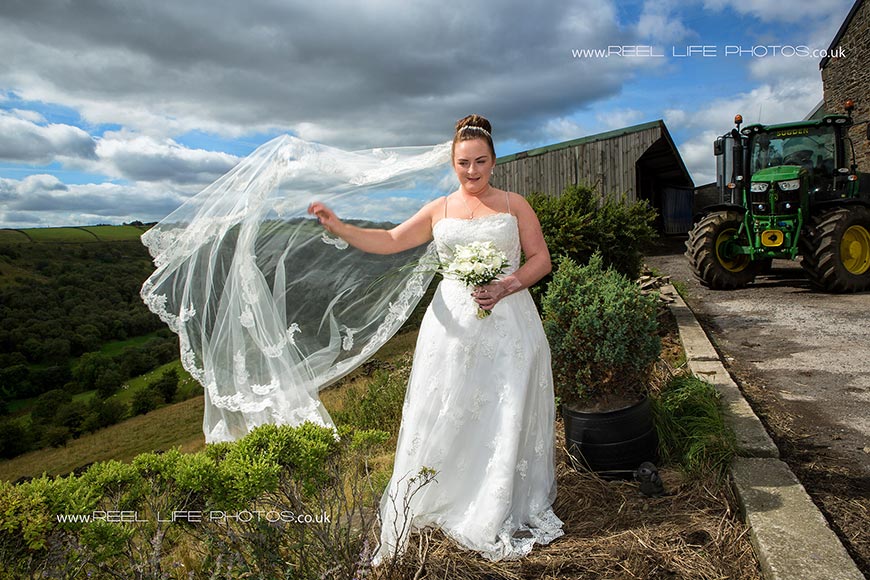 Wedding in Huddersfield- the picture was taken on the family's farm, before going to the wedding ceremony.
The little bridesmaid has fallen and hurt her knee so runs to her mum, the bride, to be kissed better.
 Natural wedding photography in Whitby and even posted pics of the happy couple should have great expressions if they are having fun with their wedding photographer! 
Even though we are happy to travel to absolutely anywhere in the whole wide world -  both Internationally and anywhere in the UK -  for lovely people's weddings,  Yorkshire is our home so we are very familiar with virtually all possible wedding venues in Huddersfield and the county, both in West Yorkshire and North Yorkshire, South Yorkshire, East Yorkshire & Humberside, as well as neighbouring counties like Cheshire, Lancashire, Cumbria and Derbyshire!   We love any culture or ethnicity, so have been privileged to share many interesting weddings, such as Nigerian and mixed race weddings, Chinese weddings, and Asian weddings - Sikh, Hindu, and Muslim - both locally and travelling many, many miles!  See here for a storybook from a wedding in Huddersfield and here for a storybook wedding near Rotherham.  Jorge was the wedding photographer in the first storybook, as I had a wedding in Huddersfield the day before then got straight on a plane to Dublin and picked up a hired car to get to Kilkea Castle to cover the wedding photography over in Southern Ireland! 
*  Was recently awarded  FIRST prize in the  INTERNATIONAL WEDDING PHOTOGRAPHERS EXCELLENCE AWARDS! The brief was to submit 5 images from the same wedding that showed the excitement and emotions of a wedding day. Am totally bowled over that I actually won it!
 We took these photos at a mixed culture wedding in Leeds and then covered video and photos for another local couple at Waterton Park Hotel.  Earlier we were the wedding photography & video team at an Asian wedding - in the snow - in Bradford at the Mirage. Later we had another 4 days of traditional Muslim Asian weddings at the Khidmat Centre,  Lala's, and The Venue - all in Bradford -  and recently were the wedding photographers at another two Asian weddings, one at Aashiq's Restaurant, The Grand Banqueting Suite on Huddersfield Road in Dewsbury and at Soothill Community Centre in Batley, and the other also in Dewsbury. You can see some more Asian wedding photos here and here too and on our Asian wedding page. 
Our most unusual wedding was a small Humanist wedding - outdoors in the woods in Leeds for video and photos.
Below are two pics from recent weddings - one in Dewsbury and the other in Liversedge.
If you want to see a grand, but down to earth wedding at Hazlewood Castle on a cold rainy day in May last year for a bride whose many friend's weddings we have also photographed, I think you will enjoy these photos.  Please look through, as there are over 300 photos there representing their whole wedding day.  Here is just one as a token from that day...(click to see).

So whatever kind of wedding you are planning, count us in! as we are the #1 wedding photographers in Huddersfield Have more pics on   Facebook too...
Give us a call to see if we can help you have a wonderful wedding day!
xx Elaine and Jorge
We've been the professional wedding photographers in Huddersfield and videographers for the lovely brides and grooms all over the UK, in every imaginable wedding venue in West Yorkshire in Bagden Hall, Waterton Park Hotel and click  here for a storybook wedding at Waterton Park Hotel, National Trust property Nostell Priory, Oulton Hall, Woolley Hall and click here:   and here for Autumn wedding pictures at Woolley Hall,  Woolley Hall website  Ripley Castle website,  a winter wedding at Leeds Met Hotel Metropole.  Chevin Lodge Hotel near Otley, Leeds, Allerton Castle,  Hazlewood Castle and more Hazelwood Castle wedding pictures here,  Monk Fryston Hotel near Selby, Holiday Inn Leeds Garforth Holdsworth House, Clay House, Oakwell Hall, for the Dewsbury, Cleckheaton,  Batley area we often cover wedding photography at Gomersal Park Hotel.  See here for Gomersal Park Hotel wedding pictures and the preceding church wedding at St.Patricks Church in Batley and for and for Oakwood Hall in Bingley see here and see here for wedding pictures at Blenheim House,   and here for  Pennine Manor Hotel in Golcar, Heath Cottage, Healds Hall, Alder House, Bagden Hall, Hatfield Hall, Weetwood Hall and here for a civil partnership wedding at Woodlands in Leeds, an urban wedding in the centre of Leeds see here for black and white wedding photography:  and here for more urban reportage wedding pictures in Huddersfield, Kings Croft wedding venue near Pontefract,  and I'm sure I'll remember a few more later on round Heckmondwike, Huddersfield, Halifax, Wakefield, Ossett, Batley, Dewsbury. Keighley, Silsden, Skipton see here: Bradford, Leeds,  and in South Yorkshire wedding venues such as Worsley Hall in Barnsley, Hellaby Hall in Doncaster see here:  and other wedding venues near Sheffield and Rotherham. Nearly missed out on wedding venues in Harrogate and Knaresborough, as well as lovely places in East Yorkshire such as the KP Club Glasshouse near Pocklington.    
So if you are looking for friendly wedding photographers in Huddersfield, Batley, Dewsbury, Bradford, Wakefield, Leeds, Heckmondwike, or Cleckheaton you should be happy now.... xx Elaine